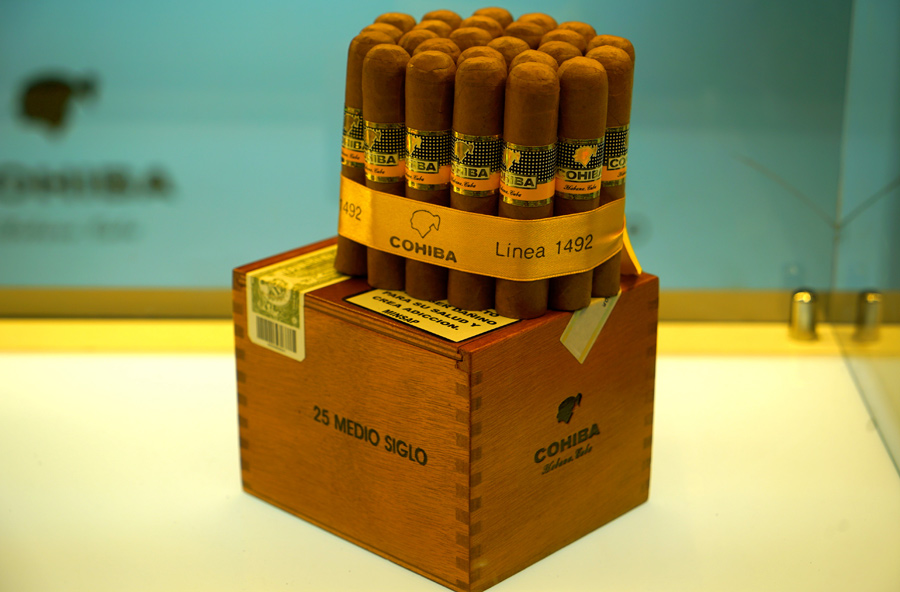 Năm 2016 đánh dấu một bước ngoặt lớn của Habanos S.A khi mà hàng loạt các thương hiệu mà công này phân phối đồng loạt tạo ra cú bom tấn lớn vào đúng dịp Festival. Cũng là thời điểm đánh dấu kỷ niệm 50 năm của thương hiệu lừng danh nhất Cohiba.
Cohiba chính thức ra đời năm 1963, được thiết kế như một thứ xì gà dành riêng cho Chủ tịch Fidel Castro. Qua nhiều năm nghiên cứu và pha trộn các loại, cuối cùng năm 1966 Cohiba cũng hoàn toàn thành công và đánh dấu mốc ra đời những dòng xì gà đầu tiên phục vụ riêng cho Fidel Castro và các quan chức của Đảng cộng sản Cuba cũng như quà tặng Ngoại giao của Cuba với Nguyên thủ các quốc gia.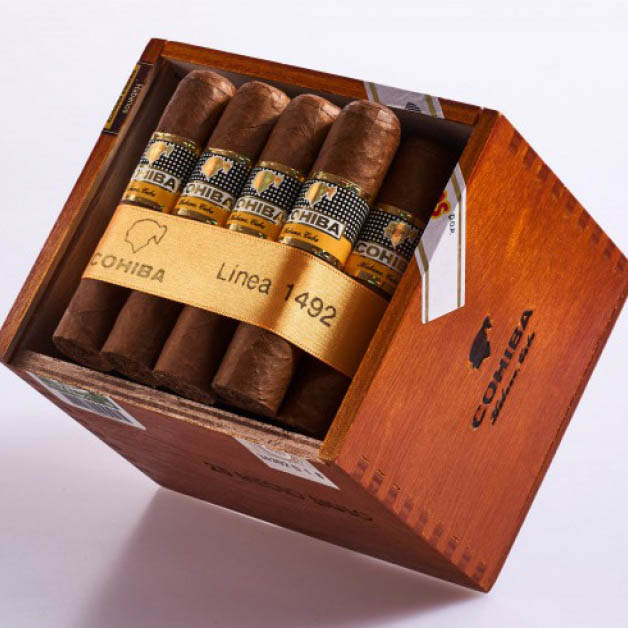 Cho tới năm 1984 Cohiba mới chính thức thương mại hóa các sản phẩm của mình khi lần lượt ra đời các nhà máy Laguito 1, 2, 3.
Tại Festival lần này, Cohiba giới thiệu 3 sản phẩm mới: Dòng siêu cao cấp Cohiba 50 Aniversario, với thiết kế chiếu dài 7 inch và vòng đo 60, sản xuất với số lượng giới hạn là 50 Humidor với sức chứa mỗi Humidor là 50 điếu, các lá ngoài được mạ vàng 24 carat. Tiếp theo là Cohiba Majestuosos 1966, với chiếu dài 5 9/10 inch và vòng đo số 58, được giới thiệu trong 1 humidor với 20 điếu, sản xuất với số lượng hạn chế 1966 Humidor.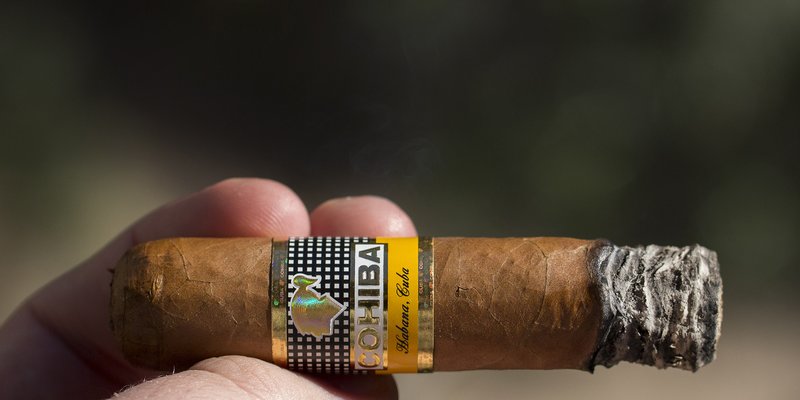 Và thứ 3 là một dòng siêu cổ điển của Cohiba, Linea 1492 được xem là lựa chọn dành cho những vị khách có túi tiền hạn chế hơn, vượt mức lựa chọn những dòng Limitada đó là Cohiba Medio Siglo. Một điếu siêu gọn mang trọn hương vị truyền thống nhất của Cohiba Lines 1492. Với vòng đo 52 và chiều dài khiêm tốn 4 inch thì Medio Siglo được thêm vào danh mục đầu tư dài hạn của hãng để kỷ niệm một nửa thế kỷ của hãng này với đúng cái têm Medio Siglo. Nó mang hương vị đặc trưng nhất của dòng cổ điển và hình dáng là sự kết hợp đặc trưng của Siglo I và Siglo VI. Thiết kế kiểu dáng hiện đại với chiều dài khiêm tốn của một Petit Coronas, thời gian hút khoảng 30 – 40 phút với sức mạnh trung bình. Hẳn nó là lựa chọn hợp lí nhất tới đây.
Nó là một Lines 1492  mới nhất được bổ sung sau nhiều năm từ 2002 khi hãng phát hành Cohiba Siglo 6. Dòng được phát triển vào năm 1992 và được thương mại từ những năm 1994 với việc các dòng Siglo I, Siglo II, Siglo III, Siglo IV và Siglo V được phát hành. Nó được xem là một điếu xì gà mang tầm vóc trung bình nhất của một xì gà với sức mạnh và kích thước của mình. Siglo VI chỉ sử dụng lá từ vùng Vuelta Abajo thuộc Pinar Del Rio ở phía Tây của Cuba. Phần lá Seco và lá lọc Ligero được lên men lần thứ 3, một công thức độc quyền trong lên men lá của Cohiba – một trong những lí do mà chúng được mệnh danh là thương hiệu hàng đầu thế giới.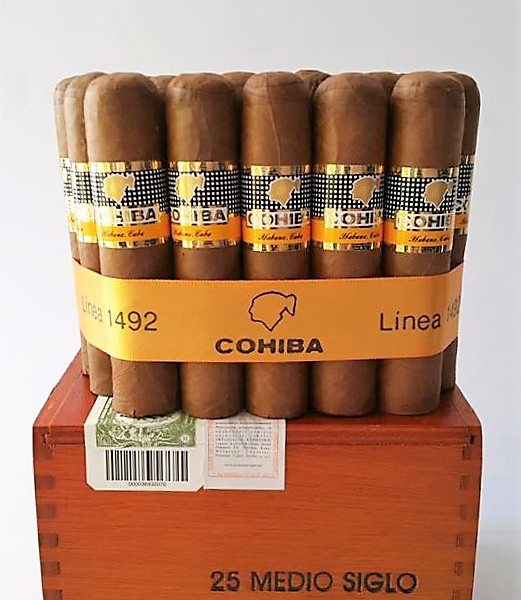 Thông tin điếu:
Tên gọi: Cohiba Medio Siglo
Xuất sứ: Cuba
Nhà máy cuốn: bí mật
Wrapper: Cuba
Binder: Cuba
Filler: Cuba
Chiều dài: 4 inch (102 mm)
Vòng đo: 52 (Ring Gauge)
Dạng điếu: Petit Robusto
Với hình dáng ngắn và mập, ngay từ đầu bạn đã cảm nhận thấy hương vị của một chút bỏng ngô và hạt ngũ cốc, với một chút đường ngọt và hơi khô. Thật thảnh thơi và để ý bạn sẽ nhận thấy một chút hương vị gỗ, nhưng nó không dễ cảm nhận ngay lập tức. Thêm một chút nữa là hương vị của kem và cảm nhận mơ hồ về hương ngũ cốc với bánh sừng bò (bánh của người Cuba).
Và không còn chần chừ gì nữa khi bắt đầu chạm vào hương vị đặc trưng của Cohiba Linea mang trong mình. Ngay lập tức bạn nhận thấy hương vị hạt tiêu đen, gỗ, da và vị hơi chua. Rất dễ cảm nhận những làn khói rất tốt của mình, nếu có sự hỗ trợ của một làn gió nhẹ, chúng sẽ tỏa đi rất nhanh hơn, nhưng đó là một điếu hoàn hảo về sự tạo khói, tất nhiên nó được nuôi dưỡng cẩn thận trong tủ cá nhân. Chỉ trong vòng 10 phút thôi tôi đã nhận thấy lượng tàn tro kéo dài tới hơn 1 inch. Bớt đi những hương vị đầu của điếu thuốc là hương vị đặc trưng của tiêu trắng rất nhiều, hơi cay nhẹ. Đối với một điếu xì gà có sức mạnh trung bình và đa vị như này, thì đây được xem là một điếu xì gà hoàn hảo trong dòng Lines 1492 của Cohiba. Nó quyến rũ tôi bởi những đợt khói quyện đặc trưng, ngậy và hơi cay nhẹ của tiêu trên vòm họng.
Sau giai đoạn hương vị đầu của điếu xì gà, một loạt hương vị của các Cohiba Siglo truyền thống được thức dậy trong điếu thuốc, bạn có thể thoải mái tìm kiếm chúng. Hương hạt tiêu đen trở nên nổi bật rõ rệt, vị gỗ khô và hạt ngũ cốc chen nhau trong vòm họng. Nhưng thú vị nhất là vị se cay của tiêu trắng khi thử đẩy khói qua xoang và qua lỗ mũi bạn sẽ thấy nó. Thật tuyệt vời bởi những đường gân lá nhỏ li ti được đốt cháy dần, bạn nên ngắm nó khi thưởng thức bạn sẽ thực sự bị mê mẩn. Toàn bộ hương vị của nó trọn vẹn cho đến khi điếu thuốc cháy đến gần tem cuốn.
Đoạn cuối của điếu thuốc luôn là điều thú vị với các tay nghiền, đây luôn là điểm nổi bật nhất của điếu thuốc. Hương vị ấm dần lên, do đã tới gần cuối điếu, tôi phải hút chậm lại một chút. Nó bớt đi vị chua và tôi thấy thực sự hài hòa. 2/3 điếu thuốc đầu được đốt cháy trong 30 phút, giờ đây là lúc tôi cảm nhận thật sự sức mạnh bên trong điếu Cohiba Medio Siglo này. Ngắm nó thật kỹ làm tôi liên tưởng đến một vịnh biển tuyệt đẹp, ngăn cách giữa phần tàn điếu bởi một đường cháy.
Có một số lưu ý rằng, những điếu xì gà được giới thiệu trong lễ hội của Habanos có thể sẽ không được hoàn toàn như ý bạn mong đợi, bởi thời gian bảo quản cũng như quá trình lưu chuyển địa lí, cũng như thời điểm cuốn giữa dòng Preproduction và những dòng bán Public sẽ làm giảm thiểu đi giá trị của chúng. Bạn cần lưu tâm điều này, giống như khi năm ngoái Montecristo giới thiệu dòng Media Coronas. Đó là kinh nghiệm của tôi khi thường xuyên phải hút thử nghiệm các dòng trước khi phát hành.
Chưa công bố chính thức nhưng Cohiba Medio Siglo chắc chắn được thiết kế trong hộp trượt với 25 điếu cũng như một Tubos với box truyền thống 15 điếu.
Biên soạn: Vua Xì Gà
For English
As you may have heard, 2016 marks the 50th anniversary of Habanos S.A.'s most prolific brand, Cohiba, and the Cuban cigar enterprise has pulled out all the punches as part of the celebration.
Originally created in 1963 as a fuma made for Fidel Castro, the blend eventually became known as Cohiba in 1966 and was a private brand that was only available to Castro and high level government officials and Communist Party members for personal use and diplomatic gifts. The cigar didn't become commercially available until 1984, when the Laguito No.1, Laguito No.2 and Laguito No.3 were released.
The Cohiba marca is adding three new releases for its 50th anniversary: the ultra high-end Cohiba 50 Aniversario, a 7 x 60 vitola limited to just 50 humidors of 50 cigars, with each Elie Bleu-made humidor featuring ligero leaves that have been plated with 24-carat gold. Next is the Cohiba Majestuosos 1966, a 5 9/10 x 58 vitola that also comes in a humidor presentation, with 1,966 units produced and each holding 20 cigars.
For those with a more modest budget for cigars or without access to these limited editions is the Cohiba Medio Siglo, a compact new vitola in the Cohiba Linea 1492 series. Measuring 4 x 52 and with a name that means half century, this petit robusto is a tribute to two of the most popular vitolas in the line: the Cohiba Siglo I and Cohiba Siglo VI. It borrows the length of the former—4 inches (102mm)—and the ring gauge of the latter—52—to create what Habanos S.A. calls a "clipped and modern format" that they budget at taking 30 minutes to smoke while delivering a mild strength profile.
It's the first new vitola in the Linea 1492 series since 2002, when the Cohiba Siglo VI was added. The line was developed in 1992 and became commercially available in early 1994, when the Siglo I, Siglo II, Siglo III, Siglo IV and Siglo V were all released. It's considered to be a medium strength range of cigars, utilizing only tobacco from the Vuelta Abajo region of Pínar del Río in western Cuba. The seco and ligero fillers receive a third fermentation, a process said to be exclusive to Cohiba, and one that would befit what is referred to as the company's global flagship brand.
Cigar Reviewed: Cohiba Medio Siglo (Prerelease)
Country of Origin: Cuba
Factory: n/a
Wrapper: Cuba
Binder: Cuba
Filler: Cuba
Length: 4 Inches
Ring Gauge: 52
Vitola: Petit Robusto
MSRP: n/a
Release Date: n/a
Number of Cigars Released: Regular Production
Number of Cigars Smoked For Review: 2
The Cohiba Media Siglo is a short and stout cigar, seeming more at home in American humidors than Cuban ones, and while the band is certainly decorative, the wrapper shows the tell tale sign of Cuban tobacco with a few green spots that detract from an otherwise attractive golden-hued capa. It's a very well-rolled cigar with seamless lines and just a few small veins, finished off by a near perfectly executed head and cap. There's a bit of give to one cigar while the other is much firmer, with decent if not perfect uniformity on each sample. From the foot I get primarily corn flakes and cereal grain with a bit of sweet, dry sugar. There's a bit of wood to be found as well if you're willing to spend some time with it, as it doesn't jump out immediately, and one sample shows a light peach note. The cold draw is a fairly average and if anything a touch loose, though nothing to be concerned about. Flavors here lean towards cream and an offering that sits between cereal grain and croissants.
There's no delay getting to the flavor profile of the Cohiba Medio Siglo, as a knotted bunch of tastes and aromas jump off the cigar, with a good bit of black pepper, wood, leather and a touch of sourness being the most prominent. The cigar puts off a good amount of smoke early on, though it dissipates fairly quickly, even without the help of a slight breeze. The burn line is also progressing remarkably quick, as within just about 10 minutes of smoking I already nearly an inch of ash, enough to make me want to tap it off. Thankfully the cigar takes care of it for me, leaving less than an inch until the band will need to be removed. While the flavors early on need a bit of time to untangle themselves, retrohales are fairly straightforward with plentiful amounts of white pepper. For a cigar with plenty of flavor intensity, the overall strength is medium at best, as the lingering effect on my palate and system is relatively mild.
After a bit of a flavor roller coaster to start, the Cohiba Media Siglo straightens itself out, settling into a medium bodied and medium strength profile, though leaning more towards medium-plus in both areas. The black pepper has become a bit more prominent, with a dry background of wood and cereal grain cradling it. Retrohales are punchy by way of white pepper, but there is a sharper, more potent edge to them that almost burns the nostrils at times. There's also just a bit of earthy gruffness coming into the cigar as the burn line approaches the band, giving it a bit more robustness than it has shown earlier. The combustion and burn line remain fantastic as the cigar motors through the midpoint, with the flavor picking up a bit of creaminess once the band needs to come off.
The bridge from second third to final third is one of the highlights of the cigar, as all the notes from the start are now in harmony, and thankfully without any of the sourness. The flavor warms up a bit with the core approaching, and I find myself slowing down just a bit, as the first two thirds burned in just about 30 minutes and I want to savor what the Cohiba Media Siglo is offering. The burn line goes off track for the first time with less than two inches to go, creating small coves where the burn line progresses too quickly, resulting in the look of a shoreline. The cigar manages to correct that issue on its own, and burns down nicely until sourness and some adverse impacts from the heat offer a clear suggestion that it's time to retire the Media Siglo to the ashtray.
Final Notes
One sample had something I don't generally associate with Cuban cigars: dried glue stains. Maybe they are more common than I'm aware, but I generally don't come across them.
On a related note, the bands seem to be glued together especially well, and it was easier to slide the band off than peel the ends apart without damaging it.
There's no formal release date set for the Cohiba Medio Siglo, but when it does arrive it will come in both 25-count sliding lid boxes and packs of three tubos.
This is the first time the vitola has been used by Habanos, and as such is known as both medio siglo in its common name and factory name.
Last year, the Montecristo marca added the Media Corona, a 3 1/2 x 44 vitola.
One would have to think that General Cigar Co. will be releasing a 50th anniversary edition of its Cohiba, though as we have chronicled, the brand is a contested one between General and Empresa Cubana del Tabaco (Cubatabaco).
The name Cohiba comes from the Taino Indian word for tobacco.
Final smoking time was just about one hour, though I could see smoking this in around 40 minutes with a bit faster pace.
The cigars for this review were provided by a reader of the site during the XVIII Festival del Habano.
Editor's Note: As with every cigar given out during the Festival del Habano, there should be some disclaimers made. Samples of upcoming cigars given out at previous Festivals were almost certainly rolled at a different time than the production versions given the large gap in between the Festival and when the cigars shipped.
Even if the cigars were rolled at the same time, the difference in time between when they were smoked for review and when they appear in the market will almost certainly show a distinct difference.These reviews have been labeled as "preproduction" because there is likely to be a significant gap between when the cigars are reviewed and when they shipped. For reference, the two cigars we reviewed from last year's Festival del Habano have not shipped as of late March, over one year after the Festival. — CM.
Theo: Patrick Lagreid